With the rise of female empowerment comes the erasing of some wedding traditions (which one of you would be okay with a dowry?) and the rise of some new ones (such as rockin' short, colorful wedding dresses). One of these new traditions is the male engagement ring. These bands fit the same purpose as the traditional female symbol of promise and commitment, but they usually come a few sizes bigger. Of course, not many men are lining up for the thin silver band with a trio of pear-cut diamonds. So what exactly should future spouses be looking for in this masculine new tradition?   First, it's important to think about how your man's ring will look beside the wedding band. If you're going for a simple silver or gold style, find something that compliments it without overwhelming it. Consider:  
Wood Inlay:
These bands come in a variety of styles, but keep in mind you man's look. They range from thick bands of deep, rich mahogany to thin strips of lighter woods (such as walnut). Woods can also be dyed to different colors. The nice thing about this style is that they are often easy to clean, and the wood can be swapped out for different colors or styles if they become worn.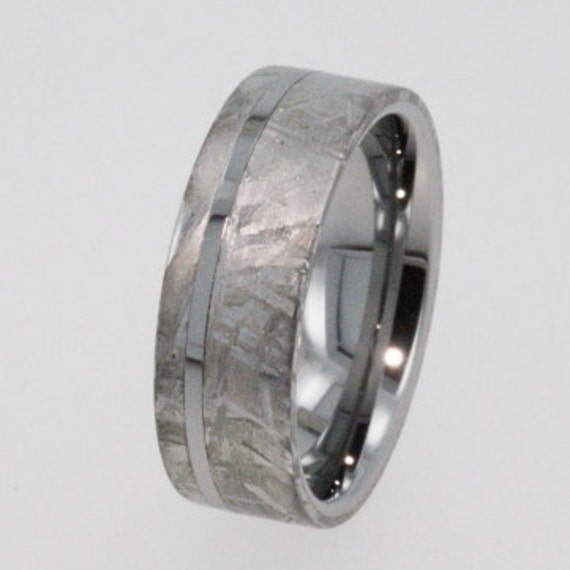 Interesting Materials:
One of my favorite materials for male engagement rings is also one of the most expensive: meteorite. Meteorite is beautiful and intricate, and not many men can say that they're wearing something extraterrestrial on their wedding day. These rings can be solid or inlayed into other material. For other materials, think about getting something tough and durable, such as titanium.  
Outside Engraving:
Couples have been engraving sweet words on the insides of their wedding rings since the dawn of time, but do something a little different for your man: engrave something meaningful on the outside of the ring. The engraving can be as complex or as simple as you like, and can range from an inside joke to the centuries-old motto of his family. Your creativity is your only limitation.
Geek-Friendly Styles:
If you're lucky enough to be marrying a fan of the Lord of the Rings, he won't be looking down on you for finding him an imitation of the One Ring for his engagement band. In fact, I'm pretty sure it ensures the lasting bond of your union. The same goes for rings molded from Lego pieces. Your rings, just like the rest of your wedding, should be an expression of your identity as a couple. So have fun with it!
Read more