What Do I Do With My Dress Now?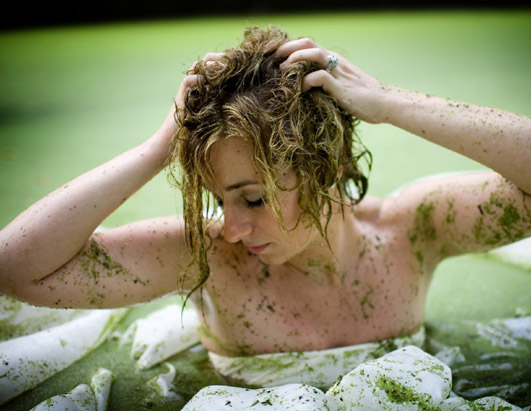 Many women know exactly where their wedding dress is going once all the festivities are over: it will be stored in an attic to await the moment when a future daughter will use it for her own wedding. For others, the decision is harder. What if the dress goes out of style? What if it doesn't fit? What if future daughters want their own experience hunting a dress? What if no daughters are planned at all?
There are several schools of thought about what to do with a wedding dress then (other than packing it for indefinite storage, which costs more than you would think). You could always sell it (for a reduced rate), or donate it to an organization like
www.gownsforgood.com
, but there are a few other viable options:  
Trash the Dress!
"Trash the Dress" photo shoots will often produce the best photos of you and your new spouse in your ceremony garb. The point isn't to intentionally destroy every stitch of your gown, but to show you newlyweds having fun and disregarding the attention to cleanliness and detail you wore on your wedding day. Instead of making sure your mother isn't stepping on your train or avoiding the messy children at table 8 all night, you can go scuba diving or four-wheeling while looking your best (without worrying about posing). The dress will sometimes be worn beyond repair, but the pictures are worth it. If you have children, these shoots will produce some great moments between you and them (and you can't buy the looks on your kid's faces when they get to mud wrestle you).
Recycle!
For many brides, the thought of cutting up a wedding dress to turn it into something else is enough to cause heart palpitations. For everyone else, it's a fun way to make something out of a single-wear garment for daily use. I've seen brides make handkerchiefs as keepsakes for all the female members of her family, baptism gowns for future children, accessories (such as
bridal necklaces
) for betrothed friends and family, and even tree skirts for Christmas time. By making something out of your dress, the material can still be a part of your life without having to store it away.  
Wear your dress again!
How many times have we heard this?: "But that's so much money for a dress you'll only wear once!" Silence the nay-sayers by proving them wrong – wear your wedding dress again! Many new styles are easily transformed into evening or cocktail dresses with a quick trip to the seamstress. Keep your dress and make it a part of your everyday life with just a dye-job and a few careful snips. Your dress may have been expensive, and it is definitely important to you, so don't sentence it to an eternity in a closet. You can even keep it as an anniversary dress to remind your spouse just how great you looked in it on your wedding day.