8 Ideas for Your Old, New, Borrowed, and Blue
8 Ideas for Your Old, New, Borrowed, and Blue
Something Old
1. When deciding on something old, first look to those in your family that are important to you. This became such an apparent reason behind why something old became part of this wedding tradition as we all (if your not you should) watch 
This is Us
's Kaite-girl trying to find something of her dad's to walk down the aisle with her on her wedding day. For Kate Pearson, it might have been a case of finding balance in feeling grief and letting go, but it's more than understandable to want her something old to stand in for her dad. So if someone is missing from your wedding, maybe this little tradition can help fill that gap (at least a little bit). 2. Another great option is a family heirloom. Many families even pass down specific things for their brides to wear. It can be something big like the wedding dress, or small like a bracelet or a tiara. Either way, it fits the bill of something old, and with a lot of meaning behind it!
Something New
For your something new, you will want to think about the new family you are creating. It's not just, "oh I bought this dress new or this hair clip is new". Really, that's just no fun and not in the spirit of the tradition! 3. A great ideas would be to have a monogrammed handkerchief with the initials of your new name. You can find a great one
here
! 4. Or if you aren't changing your name, then you could do something like have a brand new key made of your first home together as a married couple that could be added to your bouquet or even sown into your dress.
Something Borrowed
This is another one that you can have some sentimental fun with. 5. A bride with a group of best gal friends or sisters might share an item from each of their weddings as their something borrowed. 6. Borrow something from a person or couple whose relationship you admire. This could be something from their wedding or something they consider special to their relationship. For example, you could "borrow" their song for your wedding dance!
Something Blue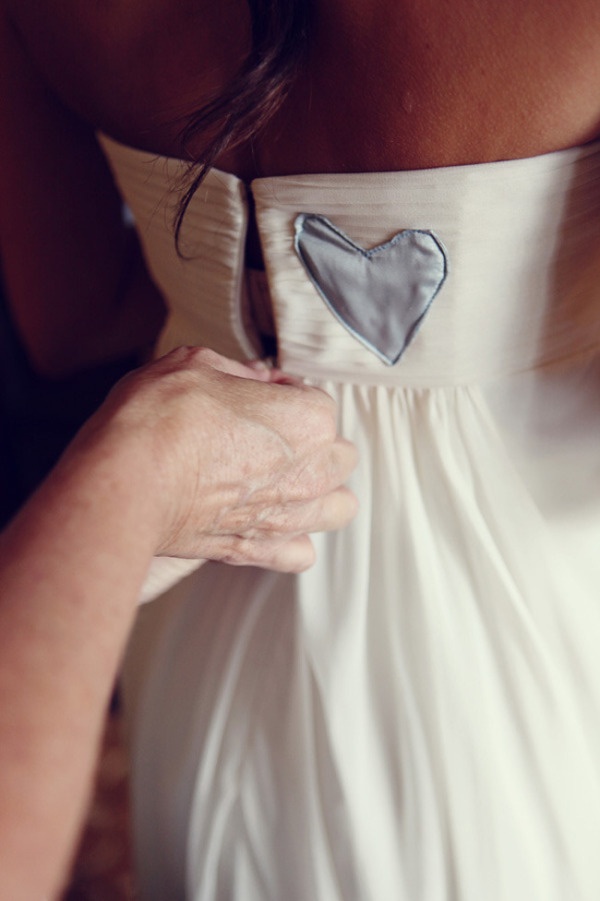 Now, something blue is supposed to represent the purity of the marriage and the promise of fidelity. While anything could be your blue item, choosing something that really works with what it is symbolizing actually will add more meaning to your wedding. 7. A great option for this would be to add it to your wedding ring. Of course if you are dead set against colored gemstones in your wedding rings, then this won't work. But if not, it really is a very meaningful option. Many jewelers will even inlay a gemstone on the inside of the wedding band. Depending on how thing your band is, this could be an amazing something blue! 8. Another way to go would be to add the blue to your wedding dress! Some brides might make it a real focal point, but one of our favorites is when it is used as stitching to add in a message on the bodice or train of the dress. Some brides have done hearts or names, other's quotes or a line of their vows. No matter what you choose, it tends to be pretty special